Had the day off and a real desire to cook something for diner. But, what to cook? I decided to just go to the grocery store and stare at the meat department until something jumped out at me and said "cook me".
The Chicken looked good and the steaks were so-so, but a chuckie caught my eye. And, it was on sale. A real no brainer. At that moment, I had a need for beef. Nice and simple. Got some red taters, carrots, celery and an onion to round out the meal.
Got it all home, seasoned the chuckie with Simply Marvelous Season-All and then SM Cherry Rub. I fired up the BGE (with chunks of cherry wood) and while it was coming up to temp I cut up the veggies and started throwing them into a dutch oven with a little bit of beef broth. I put the meat on top, but decided more taters & carrots were in order, along with a garlic clove or three, so I piled some more in and put it uncovered on the fire.
I wanted the temp to be 275, but as usual, the BGE had a mind of it's own and despite my best efforts to shut the intake almost all the way trying to limit it, it settled on 330, which, of course, turned out to be the perfect temp for today's windy conditions. The BGE seems to always know what's best, and I'm gradually learning just to accept the fact that it truly is smarter than I.
Anyway, here is was after 2 hours.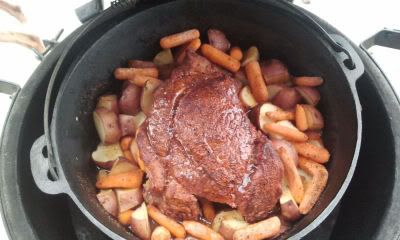 Probe went in like butta so I covered it and closed the vents the rest of the way and let it rest while we walked the dogs. Sorry for no plated pron. We were, as usual, too busy eating.
I keep telling myself that I'm going to start cooking fancy stuff like so many of you guys do, but the simple things in life are just so darned tasty.