Older Bandera Restoration
---
I have an older Bandera that I no longer use that I want to do some sort of re-build or restore. Here is what I have.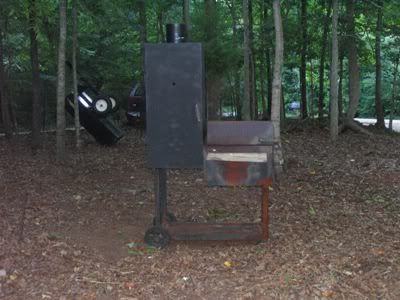 Here's the basic design I'm thinking about.
My question is " Will the Bandera firebox be enough to get the heat to the vertical chamber or not" and how does all feel about this type design. Think it will work? Any other thoughts on what to do with the oldster?
__________________
[B]BigJim[/B]

[B]Charbroil CB940X[/B]
[B]Charbroil Bandera and an Old NB Bandera (in restoration)[/B]
[B]Charbroil [COLOR=red]RED[/COLOR][COLOR=black] infrared[/COLOR][/B]
[B][COLOR=black]Small Charbroil gasser (sorry), Weber Performer, Thermos Grill-to - Go[/COLOR][/B]
[B]UDS x 2[/B]
[B]Super-Fast, Splash Proof, Precisely Accurate, Highly Visible [COLOR=darkorange]ORANGE[/COLOR] Thermapen[/B]
[B]Fast, Accurate and Shipped Free [COLOR=navy]BLUE [/COLOR]Thermapen, Maverick ET-73, Maverick ET-732 x2[/B]