For some reason tonight I had trouble getting the camera to focus; so, the pictures aren't the best in the world.
While the wife and daughter were out of the house this afternoon, I threw on a small rack of baby backs that called out to me when I was in Bently's (a local market). I cooked it indirect in my Weber kettle with Kingsford fuel and Jack Daniel's barrel chips for smoke. My in-laws gave me some rub from
Pig Pounda Kappa
.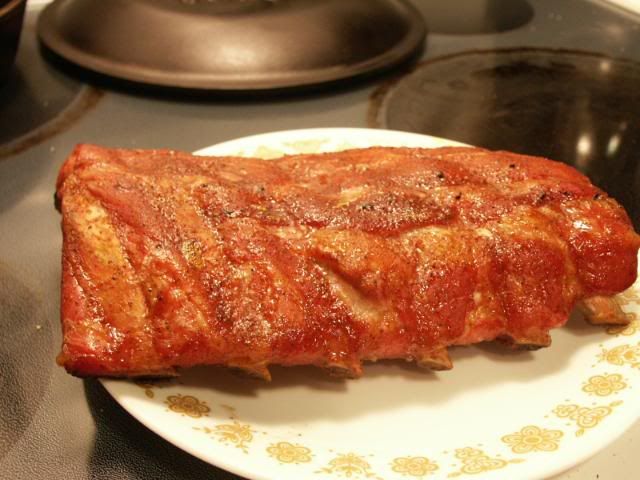 This was my first run at baby backs. They turned out pretty tasty, and the rub had certainly grown on me by the time I was done eating. I am anxious to try it on shoulder chunks (country ribs).
The wife brought home some chuck steaks. I couldn't get a good picture of them, but they had a nice taste.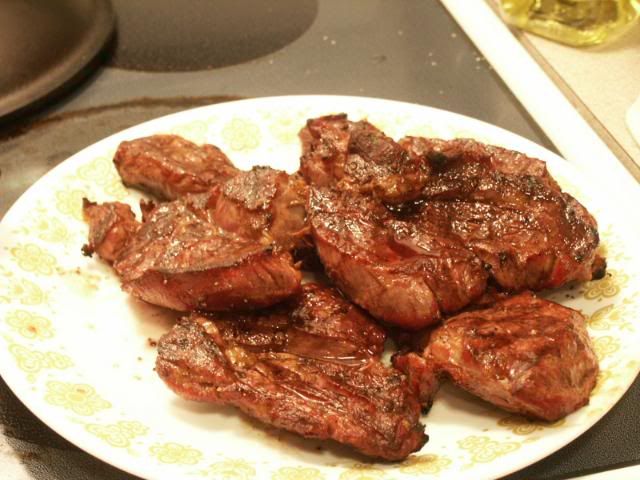 I also fixed a skillet full of taters. I put the skillet on the stove top with olive oil in it to start heating while I chopped up the taters. When I had the taters chopped, I added them to the skillet and tossed them in the oil and kept them on the stove top for a few minutes while the oven heated. I then put them in the oven with the lid on the skillet along with some salt, pepper, and Hickory Grill seasoning. When they were good and soft, I poured in a little more oil, tossed them again, and then put them under the broiler for a few minutes.