*BCC* Beer Can Chicken [PICS] w/Bonus Rub Recipe!
2 natural whole fryers seasoned with my
chicken rub
1 cup Salt
½ cup Ground Black Pepper
¼ cup Original Mrs. Dash Seasoning
¼ cup Off the Shelf BBQ Spice (I use Stubbs)
-- I use a shot glass instead of a cup to mix small batches.
--Can add ¼ cup Red Pepper Flakes for heat if desired.
Impaled on a ½
can of Miller "The Champagne of Beers".
On the plain old kettle set up for indirect heat and no water pan.
25 briquettes piled on one side. Hickory chips added the first 30 minutes.
Cooked at 250-300 F to an internal temperature of 185 F.
I burned the corn
still tasty
30 minutes into the cook…
1 BCC down, 1 BCC to go, mashed potatoes, burnt corn
, butter biscuits, and Dr Pepper…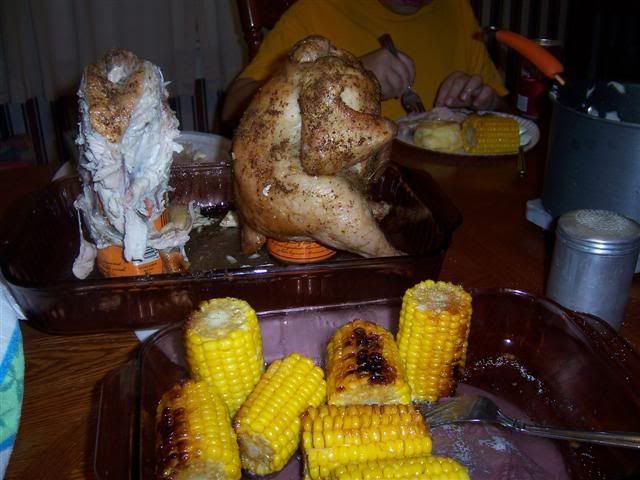 THANKS
.