---
Quote:
Originally Posted by
thirdeye
The pork rinds sound like a nice touch. Are they for flavor or thickening, or both? I make a similar dish with canned beans only using my favorite Texas beans.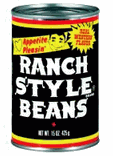 You can get them with jalapeno's too. One thing I do different is add beer and cook down some.
I made those once from my base recipe. I just started adding chile powder and black pepper. I've tried to do it again and can't!
They are a favorite with grilled pork chops and whipped spuds from when I was growing up.
__________________
You can't be a real country unless you have a beer and an airline - it helps if you have some kind of a football team, or some nuclear weapons, but at the very least you need a beer. --Frank Zappa

BOOGITY, BOOGITY, BOOGITY!!!

Recipient of a Huggies box!

Shut up, and cook!!!!