. . . . in Butler, Georgia.
Grill is made from a 200 gallon diesel tank rescued from the junk pile at the county work farm. It provided diesel for motor graders on our dirt roads back in the 60s. I have been cooking on it nearly 30 years. Cost less than $100 for fabrication and expanded metal. It is getting thin in some spots. If you use your imagination at about 0400, about half way through a 12 hour cooking, you can get a whiff of diesel fumes from 50 years ago.
I cook fairly big poundage of butts about twice a year . . . 60-80 lbs. Eighty pounds is probably about max for this setup. Probably 50-60 lbs in this load.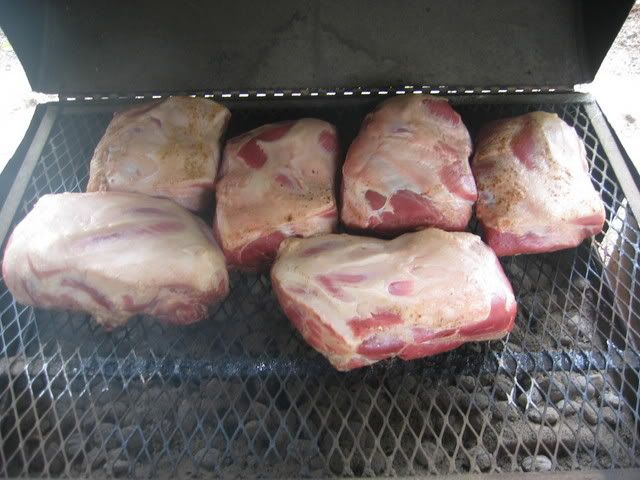 Butts are ready to cool a while then commence pulling in this picture. I used to go cut my own hickory, oak, pecan, etc, but now I just use mostly bagged Kingsford unless I find some easy pickin's on some hardwood. Sacrilege, I know, but my guests ain't complained yet.
Meat pulled from the butts . . . this is real Q!! We usually feed about 60 people on the 4th.
Friends, neighbors, family at a recent July 4th bash. We serve no beer, no wine, no corn squeezin's in deference to my 94 year-old Mama who don't hold with such goings on.
My Mama is the gray-haired lady in the white shirt on the left side of the picture. She was only about 91 when this picture was made.