This is last Sunday's dinner. I had been home all week after totalling my car Nov 9th and decided it was time to get off the couch and smoke something. With the wife being 5 months pregnant with twins, she has not wanted any chicken or beef of late. So while shopping I mentioned we could do a pork loin, since I had never done one and they were relatively quick to do. So we spend some time finding a nice 3.38lb one at meijer, get home and I start to prep it, when I find out it wasnt one whole pork loin, but rather two seperate pork loins. I slathered the wifes with some old yellow mustard, then covered mine in some Frank's Red Hot BBQ sauce and into the fridge for an hour or so.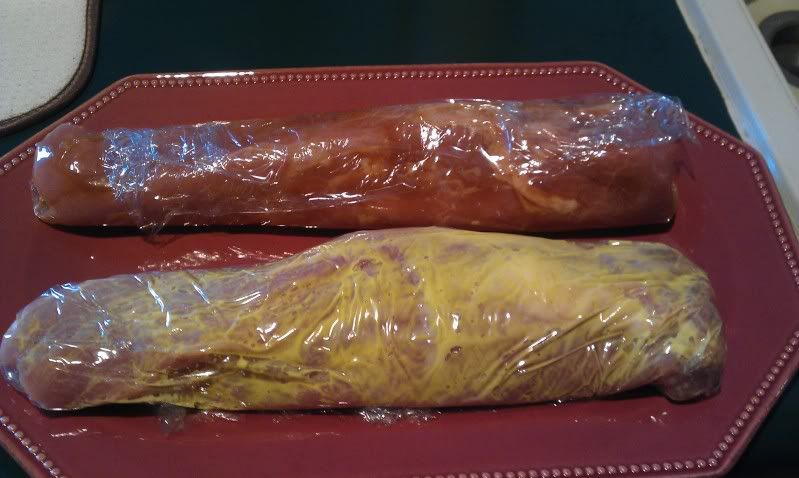 Decided to use a rub mix of McCormicks Pork Rub, Applewood Rub, Brown Sugar, and some Rosemary. I did a did add some Fiery 5 pepper to mine for some extra heat.
A little blurry, but rub is on.
Cooked them at 250 with some Mesquite mixed in. Decided to skip the water pan and forgot to spray with apple juice as well. I foiled the wifes after 1.5 hours and let her go for another 40 minutes, before un-foiling for another 30 minutes. (I had planned on foiling for longer, but my temp prob was showing awful close to 170, so I pulled it early)
Here they are ready for a short resting period, while the mashed taters and corn are finishing up. Outside temp was in the low 60's with a nice northerly wind, figured I would have a heck of time with temp on the Chargriller, but I used one full unlit chimney and a 3/4 chimney of lit for the whole cook.
Here is the wifes sliced up for her. Extremely moist and tender, was pleasantly surprised.
Here is mine, a little dry, but still looking good. Not sure if spraying would of helped any, may just foil them both next time.
Final plate shot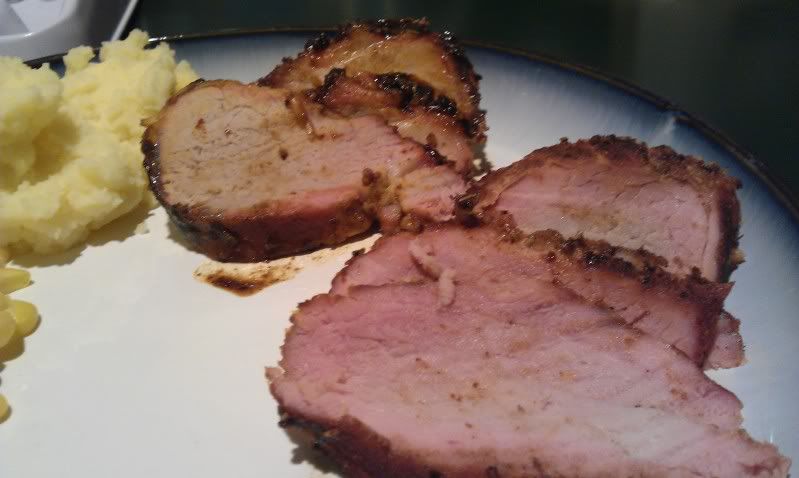 Overall it was an a great meal. For the first time I didnt sauce them on the grill and they didnt really need any sauce. I did notice that my wifes seem to take on more of the smoke than mine did, but they still had the right amount of smoke. Even our 2 year old son gobbled up 3 slices of pork loin and this from a kid who is pickey about what meat he eats, plus the wife enjoyed it. Next time round might glaze one or stuff one too.