I'll go first. Believe it or not, I haven't used Stoke Master for a complete smoke. Being the developer, I would run test while doing a smoke and many of these test had bugs that would make me stop the monitoring and then start it back up. On Tuesday, March 6th, I decided to fix that. I was cooking some steak tips in my oven so I put the temp probe in the oven and pushed two meat probes in two of the biggest tips. I then set my alarms and put the meat in the oven once the oven temp alarm went off. About 40 minutes late, the meat alarms went off and dinner was served. One thing to note on the graph is the up and down temps for the oven. The Stoker is a good tool to test how even the temps of your oven are.
Here's the graph: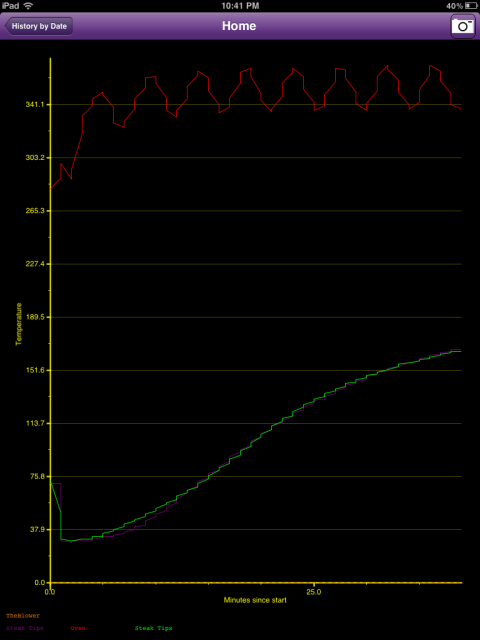 __________________
"At what point did we forget that the Space Shuttle was, essentially, a program that strapped human beings to an explosion and tried to stab through the sky with fire and math? How jaded do we have to be to lose collective interest in that?" - Robert Brockway
-----------------------------------------------------------
Weber 26.5"
Yoder YS640
-NCGrimbo