The PNWBA Pitmaster BBQ Cooking Class and CBJ Class was held at BBQ Pete's in Kent, WA. Sunday May 15.
The torrential downpour did not dampen the spirits of those that showed up and learned to cook the 4 meats, Tri-Tip and Sausage from Head Cooks Tom Wallin of Dances with Smoke and Anthony james of Ravens Fyre BBQ.
The cooks turned in their entries to be judged by the newly trained CBJ's and the Grand Champion trophy went to Thunderbird BBQ!
Reserve Grand went to the Brethren team of Big Sexy!
Larry (Amaducious) & Brandon (Big Sexy)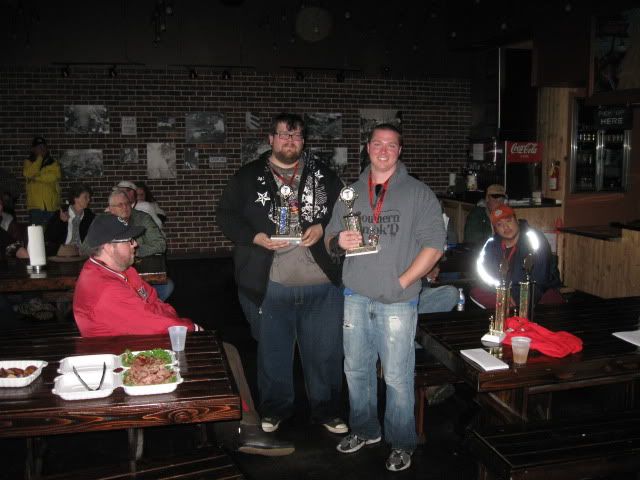 Check it out!
http://s163.photobucket.com/albums/t...view=slideshow
__________________
Brian - Left Hand Smoke BBQ PNWBA 2010 Team of the Year
BGE's/WSM's/Pellet Pro WSM/BWS Gater/BDS Clones/Cookshack 008/Weber Performer w EZ-Que/Cajun Bandit/Rib-O-Lator Test Pilot/La Caja China/BBQ Guru/Weber 1000 RK Drum Coffee Roaster
Follow Left Hand Smoke on Facebook!
http://www.facebook.com/pages/Left-H...462391?sk=wall
KCBS CBJ/PNWBA CBJ
www.pnwba.com