The more i use this pellet pooper the more i love it, I still dream of being abole to master the wood fire like some of you other brethren. I feel that this pellet grill is a fantasic first step into the world of bbqing
This morning i made classic bacon and eggs, i used pepper bacon from my local butcher and farm fresh eggs. I think because my grill is still new, 4th time cooking on it i have still refused to let fat drip onto my heat shield...i think that will change in time, so i used a cookie sheet and a rack to cook my bacon on. I thought that my egg poacher would work as well in my grill as it does on a water bath, and i was right...I used apple pellets to heat the grill up...although it took me an hour to make breakfast this morning, it did allow me to savour two ice cold beer before noon with out hearing a word from the Mrs....(any good wife knows, that if the grill is smoking, beer MUST be consumed, or the food simply does not turn out).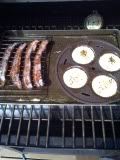 thanks for everything, the brethren rock!!!
Dave
P.S.
can anyone teach me how to make my pron just a little larger?