Lucky with the weather yesterday, so did a leg of lamb from Adam Perry Lang's 'Serious BBQ' - I love that book!
It was stuffed with lots of olive oil, herbs and spices then smothered in a flavour paste of dijon mustard, sugar, paprika, and other spices. Smoked with a mix of cherry and oak wood.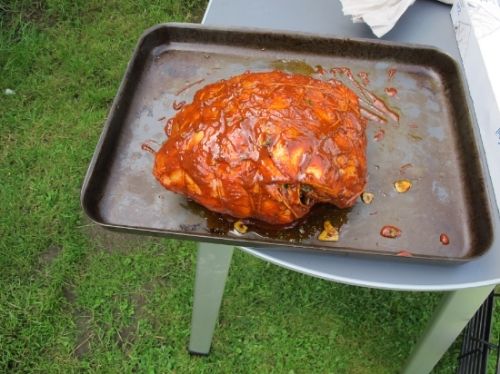 I had a bit of trouble keeping the temperature down - I was aiming for 250F but it rose to 275F and stayed there for most of the cook and my bottom dampers were pretty much nearly closed, maybe I didn't shut them down early enough?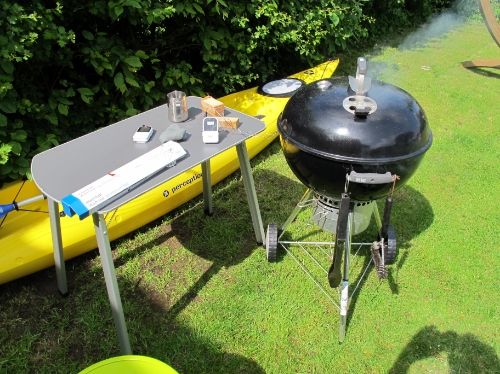 I cooked it for about 2hrs 15mins to 120F then glazed it with a honey, vinegar, lemon juice and herb mix, it smelled amazing! Then cooked it until 130F for medium.
Whilst it was resting I finished off the sweetcorn that I'd had cooking indirect in a tray of butter and about 12 Gloucester Old Spot sausages that were nicely smoked. Finished off by cooking a sea bass for the token piscetarian. My wife did some lovely sides with butternut squash, and some peas and beans.
As usual, I didn't get a plated shot, people tend to take the mickey! But this is what was left and shows how nicely pink it was. It was incredibly moist and had a lovely balanced smoke flavour. The different stuffing, paste and glaze combined really well together - some massive flavours but nothing that overpowered the meat. Mr Perry Lang seems to know what he's doing!
Just thought I'd post as it's a great recipe from a great book and I never see enough lamb being cooked.
I only moved over to proper barbecuing as opposed to grilling last year, it's just a much more relaxing way to cook a lot of food for a fair number of people.
Cheers
Dave