This past Sunday my wife and I made another trip to Smoqued in Orange, CA (as our last visit was a
bust
).
I have been wanting to try Ryan Chester's restaurant for a long time (I don't even remember making this
post
last November), so we showed up at 11:30am. They advertise doing a Sunday brunch starting at 10:30am, but we came for the real food, so we got there at their "regular" opening time.
We walk into the restaurant, and I'm grinning like an idiot. We take our seat, and I am already starting to visualize how good the 420 Mac is going to taste. The server comes by and drops off the brunch menus. I let her know that we were not interested in brunch, but want to order off the regular menu as it is now 11:30...
She proceeds to tell us that they are not serving off of the regular menu until 12:00pm. We explain that we just drove from Redlands (50+ miles), and there was nothing posted anywhere to indicate that they do not serve their regular menu until noon. She said that we can sit there for 30min and wait if we want...
... I do not want...
So we decided to leave and take a walk around the neighborhood. I have an opportunity to calm down a bit, and we return at 12:00pm
We order the 420 Mac, the brisket chili and burnt ends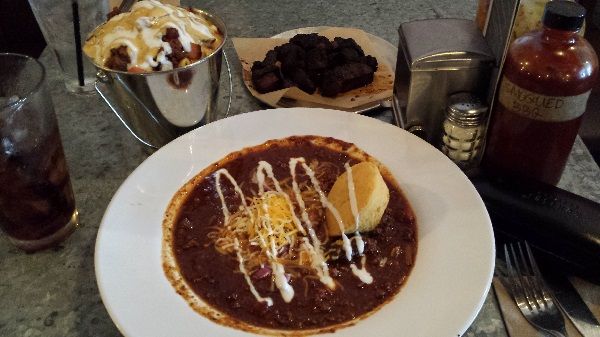 Everything was delicious, especially my 420 Mac... look at that pile of cheesy goodness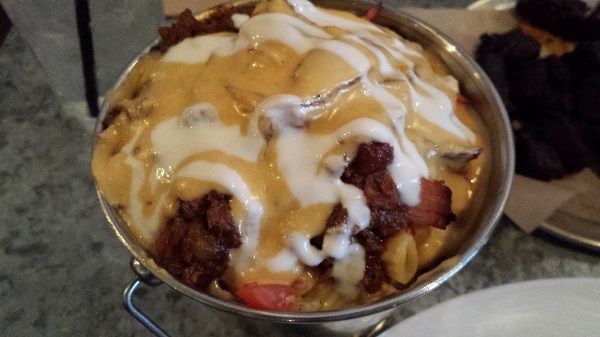 We really enjoyed the meal, but if it wasn't for Ryan's involvement in Smoqued, it is unlikely if we would return again based on the brunch issue... but as he is... and as long as the 420 Mac is on the menu... we shall return